by: Taj | March 20th, 2013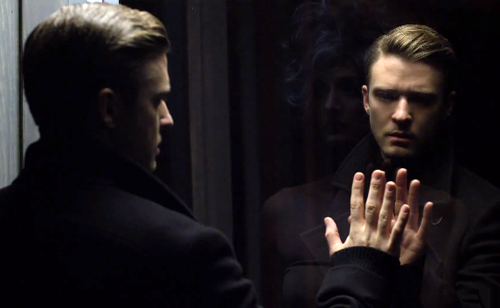 Justin Timberlake has released an interesting new visual for his latest single "Mirrors" which at the beginning of the clip he dedicates to his grandparents, William and Sadie. (The dedication probably stems from the passing of Justin's grandfather late last year) The video is a huge departure for the "Suit & Tie" singer and tells the story of a couple (his grandparents most likely) throughout a 3 generation timeline which seems to overlap at times thanks to the dream-like, funhouse slant of the vid. Justin doesn't even make an appearance in his artistic tribute until more than 5 minutes into the Floria Sigismondi ("The Runaways") directed music video.
I know a lot of my readers initially weren't that crazy about this song, siting that it sounds too much like a 3rd sequel to "Cry My a River" after "What Goes Around… Comes Around"… But I'm wondering if this creative and stunningly produced visual might change your minds? I must say that I found myself watching intently through the entire 8-minute-plus short film to follow the story of these characters in J.T.'s video tribute! That really says a lot since I have the attention span of about 20 seconds with the quality of music videos that are released these days.
Take a look at "Mirrors" and tell me if Justin is back in your good graces after the snore fest of "Suit & Tie"…