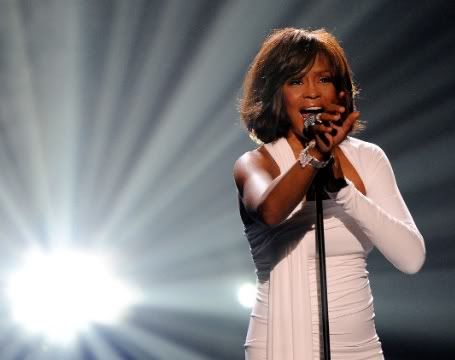 So I recently started a new segment on my blog called "Reboot" where I'll basically be highlighting older songs that where either under-rated back when they were released as singles or overlooked album gems that should have saw a release. The first inductee that I gave a "reboot" to was Janet Jackson for her grossly under-appreciated release "All Nite (Don't Stop)". I was happy to hear some of you respond, giving the song the props that it deserved! I think it should come to no surprise for me to choose the impeccable Whitney Houston for my next installment of "Reboot" and this time I'm going to feature a few of her "shoulda-been" hits.
The first song I'm giving the reboot to is Whitney's remake of "A Song For You" off of her last studio album I Look To You. From what I understand this track was intended on being Houston's fourth single but was shelved because of the underperformance of the 3 (also under-appreciated) singles she released prior. I love everything about this song… Everything from the piano ballad fake-out intro to the retro dance synth riff that almost could have been lifted straight from an old Junoir Vasquez' remix production of one of her classic dancefloor hits. I think this song would have made a great choice for her first or second single… Heck, I would have been happy even if it were only club release with a top-notch remix package!  Take a minute and revisit Whitney's timeless remake of "A Song For You" and then give the song your love in the comment section…
"And when my life is over, remember when we were together. We were alone and I was singing this song for you…"
Whitney Houston – A Song For You:
Audio clip: Adobe Flash Player (version 9 or above) is required to play this audio clip. Download the latest version here. You also need to have JavaScript enabled in your browser.
The next Whitney track I want to take you back to and re-appreciate (or maybe for some, appreciate for the first time) is Whitney's heartfelt ballad "You'll Never Stand Alone" off of her My Love Is Your Love album. If there was one thing Whitney was really good at, it was her ability to uplift your spirit with her feel-good ballads and "You'll Never Stand Alone" is a prime example of this remarkable ability. The song was never released as a single here in the US but I can't really complain since the album spanned four other (just as amazing) releases that have since become Whitney classics and helped her achieve a full fledged comeback at the time… But it's a gem of an album track worth rebooting none the less.
Whitney Houston – You'll Never Stand Alone:
Audio clip: Adobe Flash Player (version 9 or above) is required to play this audio clip. Download the latest version here. You also need to have JavaScript enabled in your browser.
And while we're on the subject of "You'll Never Stand Alone," years ago a Tony Moran remix of the cut surfaced online which transformed the ballad into a hands-in-the-air dancefloor ANTHEM!! The remix was never officially released which is really a shame because it was so well done! I especially love the hip-hop breakdown during the bridge of the song which strips down the production of all of it's synth work and puts emphasis on Whitney's amazing vocals (lead and background). I'm hoping that the label might release a new remix album and revisit some of these unreleased remixes at some point… This would be an AMAZING gift they could give to their fans if they released it now.
Whitney Houston – You'll Never Stand Alone (Tony Moran Remix):
Audio clip: Adobe Flash Player (version 9 or above) is required to play this audio clip. Download the latest version here. You also need to have JavaScript enabled in your browser.
The next Whitney Houston track I want to "reboot" is another remake. Whitney's ability to sing other people's music and somehow making it her own was just another remarkable gift that she had that undoubtedly made her one of the greatest voices of our time. A prime example of this is her cover of Dolly Parton's "I Will Always Love You" which we all know and love, but did you know that she also did an amazing cover of Debby Boone's "You Light Up My Life"? The remake appeared on Whitney's 2002 (Clive Davis-less) album Just Whitney. To many, this album was considered Whitney's career slump and didn't receive a whole lot of fan support or critic praise. But the album did have a few great tracks on it and this Debby Boone cover was definitely the stand-out for myself. If you've never heard it before, please take a listen to Whitney's beautiful rendition of this standard.
Whitney Houston – You Light Up My Life (Debby Boone Cover):
Audio clip: Adobe Flash Player (version 9 or above) is required to play this audio clip. Download the latest version here. You also need to have JavaScript enabled in your browser.
Another more recent musical gift that Whitney has left behind for us that we all may have under-appreciated a little at the time of its release is the R Kelly written title track off of her last album, "I Look To You". The song was hailed as Whitney's comeback single to her fans but didn't achieve "comeback" worthy numbers on the charts or plays on the radio. Not because the song isn't any good, it's actually just as good as some of her more celebrated classics! I think it had more to do with the timing of its release and the dance-heavy climate of pop radio at that time that might hinder a ballad such as this one to fair well. Well Whitney, this reboot is for you…
There are countless more unreleased/under-appreciated Whitney song I could share "reboot" but I think I'm going to leave you guys with the few I've covered so far so this article doesn't get too long. Instead, I'm leaving it open for discussion and hope you guys will take to the "comments" section and share your own candidates for the Whitney Houston reboot. There's just so many, I'm interested in finding out which Whitney tracks (especially from her earlier eras) you would like to add to my list…
Tags: A Song For You, I Look To You, Tony Moran, Whitney Houston, You Light Up My Life, You'll Never Stand Alone